At last has one of the most promising European prospects returned to the battlefields of MMA. Jan Blachowicz was sidelined for one and a half years due to a knee injury.

His impressive comeback started in May of 2010 at the KSW 13 "Kumite" LHW tournament, where Blachowicz fought twice in one night. In the first bout he knocked out then undefeated Brazilian Julio Brutus with an uppercut followed by a headkick at 3:40 of the first round. In the second fight Blachowicz displayed his slick ground skills by easily slapping an RNC on Poland's Wojciech Orlowski in less than two minutes. After the KSW tournament semifinals Blachowicz made his international debut in June against experienced Nikolai Onikienko of the Red Devil Sports Club. The fight took place at Russian based World Absolute FC event . Blachowicz scored his career's sixth submission win by choking out the Russian in the second round.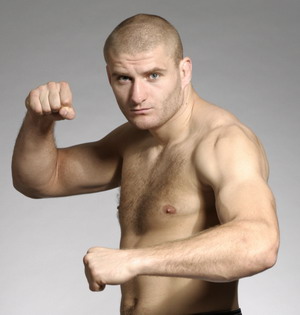 Blachowicz is a top rated prospect for couple of reasons. First of all he is currently riding a nine fight win streak against legit competition. During the past three years this 27 year old polish has beaten such top European 205ers as Maro Perak (17-2-1), Martin Zawada (21-10-0), Antoni Chmielewski (18-7-0) and Christian M'Pumbu (15-3-1). Secondly Blachowicz is an all-round fighter with great technique both on the feet and on the ground. Poland, a country with a strong pedigree in judo and wrestling, produces tons of fighters who excel in the grappling department of MMA. Blachowicz is one of these guys. He has an aggressive and slick guard game, but also very tight positional grappling that he mixes fluidly with ground and pound. Besides great grappling abilities Blachowicz also brings deadly striking skills to the table. He has competed actively in Muay Thai winning the World and European amateur titles in 2008.
Blachowicz has been fighting at 205 lbs for now, but he has hardly been cutting any weight. So if or should I say when he gets signed by a major promotion, I think he needs to either put on some muscle or drop down to middleweight.

Blachowicz trains and teaches at PRIDE vet Pavel Nastula's gym in Warsaw, but he also travels to the US for training camps.
Blachowicz's last fight was just couple of weeks ago at the KSW LHW tournament final against Spain's Daniel Tabera (16-3-3). Tabera is a pretty powerful grappler, who relies mainly on his wrestling, GnP and grappling.

But in the fight against Blachowicz it was quickly obvious that the Spanish didn't have the edge in grappling this time. Blachowicz dominated his opponent on the ground with air-tight positional grappling switching numerous times between side mount and north south. In the second round Blachowicz managed to take Tabera's back, flatten him on the ground and pound him out. Blachowicz captured the KSW LHW tournament victory in a dominating fashion, but he'll face the biggest challenge of his career in his next fight, when he takes on Mamed Khalidov. Khalidov, who is best known for KO'ing Jorge Santiago from the bottom, has also battled against Tabera back in 2008 in fight that ended up in a draw. The fight between Blachowicz and Khalidov will be the biggest LHW fight you can put together in Europe (excluding the UFC euro events).

If Blachowicz beats Khalidov, I believe signing with a major promotion is definitely the next career move for him.