For some reason the editing doesn't seem to work for the Cage 14 preview that I posted yesterday, so I had to make another entry for the second part of the main card preview.
Welterweight Title Fight: Ville Räsänen (8-3) vs Gustavo Picone (13-2):
WW title fight might not have as renowned fighters in it as the other title fights, but it might end up to be a very exciting ground fight.
Finland's Ville Räsänen doesn't shy away from challenges and this time he gets one from Swiss Top Team's grappler Gustavo "PC" Picone. Former Finnish MMA champion Ville Räsänen is mainly known for his slick ground skills. Imatra MMA's pupil's strong physique and solid wrestling skills are usually enough to get the fight to the ground. All of Räsänen's defeat's have come to pretty tough guys, but in the last two years he's gone 3-1 with the only loss coming to UFC vet David Bielkheden.
Gustavo Picone is a high quality BJJ black belt, who fights out of Liguria, Italy. 31 year old Swiss has been fighting since 2004 and managed to gather a very nice record of 13-2. Picone has lost only twice on his career. In 2005 he dropped a decision loss to UFC vet Alexandre Barros. Picone's last loss came in 2007 when he lost to renowned submission ace Satoru Kitaoka by points in Pancrase. Picone took some time off the sport in 2008 and made a comeback just couple months ago in September 2010. Picone won the fight by decision against Polish Jedrzej Kubski and got rid of the ring rust, so there's strong possibility that we get to see an even sharper Picone in this fight against Räsänen.
In summary: Someone is going to get submitted in this fight. Räsänen has finished 7 of his 8 wins by submission while Picone has gone 8 submissions in 13 wins. Hopefully this fight turns out to be an exciting and versatile ground fight that will appeal to the educated MMA fans in the audience.
Lightweight Title Fight: Jarkko Latomäki (17-6) vs Ivan Buchinger (14-2, Slovakia)
: Finland's Jarkko "Forging Hammer" Latomäki defends his Cage Lightweight Championship belt against the tough Slovakian Ivan "Buki" Buchinger in a fight that isn't going to the scoring cards.
Jarkko Latomäki, who is built like a christmas turkey, is not called the Forging Hammer for nothing. He has climbed to the very top of the European LW division using his impressive athletic abilities and bone crushing grappling. He usually bulldozes his opponents to the ground with great wrestling and/or with brute force. Latomäki's hardcore physique allows him to really push the pace of the fight with relentless takedowns and tiring clinch work. He's gone 6-1 in his last seven fights during the last three years. The only loss came by injury stoppage as Latomäki injured his leg in a fight against Mairbek Taisumov. Latomäki won this Cage title by dominating and quickly submitting Spain's Oriol Gaset, who is not an easy fight by any means. Even though grappling is Latomäki's bread and butter, he has been working on his striking by competing in boxing also.
Ivan Buchinger trains at the Ultra Fight Club, that has produced many high quality and exciting fighters like Attila Vegh, Miodrag Petkovic and the talented UFC fighter Goran Reljic. Like Latomäki, also Buchinger mainly relies on his grappling abilities in his fights. Buchinger has very good positional grappling that he uses to get the back of his opponent. Once the back mount is achieved, he maintains his position with great technique and goes for the RNC or some other submission. He's striking isn't on the same level as his grappling, but he's dangerous on the feet too. Buchinger's career opened up with 12 straight victories, mainly on the local shows, before he got beat twice in a row: first by the renowned Swede Hamid "Akira" Corassani and then by Russian Sergey Golyaev, who knocked out Buchinger in May of 2010. However Buchinger has quickly bounced back from those losses and won two of his last fights that both took place in last month.
In summary: I believe that there is no way that this fight will not end up on the ground. Both guys excel in the grappling department of MMA, so it would feel like a waste of talent if they'd decide to just slug it out on the feet. Latomäki probably has the advantage in wrestling, so it possible that he'll get the top position in this fight. Buchinger has a slick guard game and will surely come prepared to fight off his back.
Featherweight Title Fight: Tom Niinimäki (14-5) vs Sergej Grecicho (8-3)
: Finland's Tom "Stoneface" Niinimäki defends his featherweight belt against the Lithuanian submission machine gun Sergej Grecicho.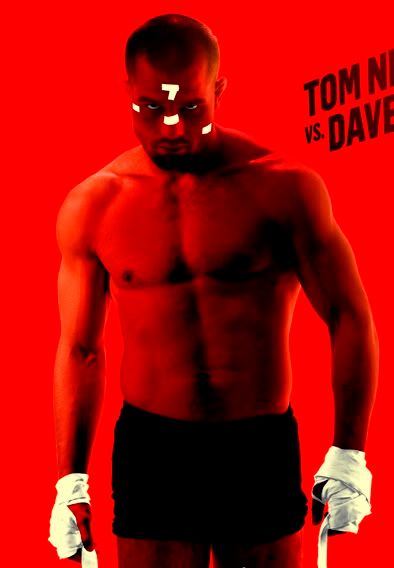 FinnFighters Gym's Tom Niinimäki has been fighting pro MMA almost ten years now, which is a long time considering that he is just 27 years old. Niinimäki was just 18 years old, when he started to fight in old school NHB tournaments like the legendary Finn Fight, where guys like Hellboy Hansen fought. Back in 2005-2006 he fought tough guys and dropped three consecutive losses that made him take a break from the sport. Niinimäki didn't fight MMA for 2,5 years, but kept himself busy by competing in boxing, BJJ and submission grappling. Now he is back with a vengeance. Former lightweight and welterweight fighter has dropped down to featherweight, where he in most cases enjoys a hefty strength advantage over his opponents. Niinimäki is a complete fighter: national kickboxing champion and a successful submission grappler. Niinimäki took the Cage belt by controlling Dutch Ben Boekee (9-0 then) on the ground and submitting him with a kimura in the first round. In his last fight Niinimäki continued his impressive win streak at featherweight by dominating yet another undefeated fighter in UK's Dave Hill (9-0 then) to a landslide decision victory.
Lithuanian Grecicho is a two time Combat Sambo World Champion. He possess super slick grappling skills on the ground and also has the tools to take the fight to ground, where he can do his magic. Grecicho has a strong clinch game and effective trip takedowns from it. In the submission department he favors armbars and triangles and his leg locks are as painful as you would expect from a sambo champ. Grecicho won six fights in a row before losing his last fight by decision to UK's Jason Young. To Grecicho's defense I must point out that it was a catchweight bout and Grecicho was much smaller than his opponent.
In summary: Grecicho's striking is his weakest point, which is why he usually does whatever it takes to get the fight to the ground. He likes to play from the bottom, so he doesn't mind much about the position he ends up in. In some of his previous fights he has also shown that conditioning isn't one of his strengths. Grecicho has already submitted three tough Finns, all by triangle, so I'm sure Niinimäki knows not to play with fire. Niinimäki has a strong background in striking arts, so I think he will most definitely try to keep this one on the feet, at least in the begin of the fight when both guys are dry and Grecicho is most dangerous. I also believe there will be a significant size difference between the two. While Grecicho isn't that big for the 145 pound weight class, Niinimäki was nicknamed "185 pounds" by his team mates, so I feel like I don't need to explain this matter any further. This should be a super exciting fight and an interesting clash of styles.